Quality Control
At The Entomologist, we strongly believe that quality is of paramount importance.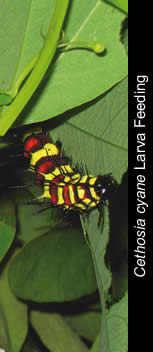 Our intention is that we will only ever ship top quality A1 pupae from at least 2nd generation captive bred parent stock that is guaranteed to reach the customer's premises in top condition.
Over the years, experience has taught us that the best way to produce top quality pupae is to produce them yourself! We have therefore developed a policy whereby we own or have an overriding controlling financial interest in the majority of sites that produce pupae for us.
Pupae production starts with the selection of top quality breeding stock. The adult butterflies fly in large airy flight cages, with multiple sources of fresh nectar. Multiple precautions are in place to control various parasitic flies that love to lay their own eggs within those of the butterflies.
The butterfly eggs are collected twice daily, stored in special boxes, labeled and dated then subjected to rigorous quality controls and disease prevention regimes.
The eggs of most species hatch within five days and are then transferred to the nursery.
After about three days, the new caterpillars shed their 1st skin and are then transferred to purpose-built cages in the rearing rooms. All caterpillars are given fresh food plant daily and their cages cleaned.
After pupation, the pupae is allowed to hang in the cage for 24 hours in order to harden, after which it is collected and taken to the pupae room for checking. Small, underweight or deformed pupae are discarded; only top-quality A1 pupae, with known pupation dates, are shipped to Oxford for sale, where they are checked again for any diseases which may only show late, damage incurred in transit or parasitic infection that escaped the first checks. Only at this point are they deemed ready to dispatch to customers.